Fantasy Gardens Bloom on North Street
Lesley Anne Beck
Like an exuberant, brilliantly colored Caribbean coral reef, the bright, bristling assemblages behind the plate glass windows beckon passersby for a closer look. A trio of gaudy purple and orange mushrooms sprouts long green tendrils; fanciful flower forms boast fringe, ruffles, and tassels; and wobbly columns of yarn balls and pom-poms glitter with sequined pods, shiny marbles, clusters of buttons, and springy lurex pipe cleaners.
Artist Leslie Pelino of Howling Spiders Studio in New Paltz, New York, has created an elaborate, embellished pair of gardens in the storefront windows in the Onota Building at 70 North Street in Pittsfield, Mass. The installation, hosted by the Storefront Artist Project, is the first of three that will enliven the space, and Pelino's gardens will be in place through January 29.
Pelino's complex objects are made from reused and repurposed materials, from fabrics, faux furs, and sequins to yarn, wire, ribbon, trim, tassels, fringe, and just about anything colorful, textured, or sparkly that catches her eye. She uses a floor loom to weave fibers and fabric scraps together, but that is only a first step. Her shapes are irregular, organic, and spontaneous; many resemble plant forms, some are vessels with layers of decoration, and some are purely products of her active imagination.
"I use mostly pre-used clothing and fabric items because the patterns and texture evoke nostalgia for me," Pelino says. "I imagine whole vignettes of experience that each piece of cloth holds, contemplating them during the very time-intensive sewing and weaving of layers and layers of cloth onto armatures created from multiple found objects. There is as much time spent standing back and considering what to apply next, as there is in the actual sculpting."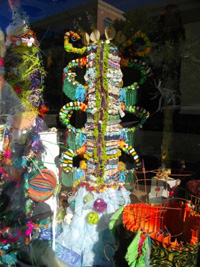 In the left-hand window, Pelino has created 'A Garden Called," a scene inspired by her love of indigenous plants, weeds or not, and the robust gardens on her woodland property. Pelino calls her style "more is more," and she used "lushly woven silks, angoras, and colorful fabrics" to make "Mushroom Maypole," "Jack," her take on a Jack-in-the-pulpit plant, "Tree," a fabric and metal quilt, and "Once Weeded." The base of the installation is a flowing stream made of woven fabric scraps.
The right-hand window is an aquarium-themed construction called "Drawn Under Water," where Pelino has placed works including "Anemone," "Starfish," "Yarn Totem," and surrounded them with a row of "Feather Duster Invertebrates." The grouping of sculptures is meant to resemble a giant fish tank. Pelino explains that she makes her sculptures individually and that it is fascinating to cluster them together as she has in her garden scenes. "I hope that this installation adds some levity and stirs imagination for the viewers," Pelino says. "It does seem to make people chuckle."
The joyous excess of the sculptures is expressed in the wild color scheme (every imaginable bright hue is present in a crazy, harmonious way) and the explosion of texture that Pelino achieves. This fantasy garden is pure fun.
"Thank you again for displaying your wonderful sculptures in Pittsfield. The public loved your work - I would catch people staring at the windows at night many many times on their way to and from the cinema. The director of the Berkshire Bank Foundation thought so highly of it and the reactions it received that he is giving us additional funding to keep the space active!"
—Julia Dixon
http://www.hvcca.org/press/Gouveia1.pdf
http://artikul.hr/content.php?review.10657
http://www.nytimes.com/imagepages/2009/02/08/nyregion/08lovewe_CA3.ready.html